From novice cyclists to more experienced riders, buying the right pair of womens mountain bike gloves is vital. Here is the thing; mountain bike gloves will protect your hands in case of a fall as well as improve your grip and control. Some gloves are even good at reducing numbness and nerve pain.
However, finding the right gloves can turn out to be a herculean task, especially for beginners. To help you out, we've put together the top 3 women MTB cycling gloves on the market. Also, don't forget to go through our insightful selection guide at the bottom of this post.
Specifications
+ Recommended use: enduro, downhill
+ Closure: Hook and loop
+ Touchscreen compatible
+ Polyester construction
+ Absorbent sweat wipe (on the thumb)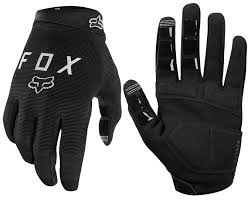 Fox Ranger Gel glove is a full-fingered glove manufactured by one of the best brands in the biking industry. It comes with polyester fingers and palm that is minimally (unfortunately) padded. The fingers have mesh side panels for breathability while at the back you'll get some good-looking graphics. On the index and thumb finger, this glove features a conductive thread for touch screen compatibility. This feature is a major plus as you can seamlessly operate your phone or fitness tracker as you enjoy your ride.
All in all, this Fox's best-selling gloves are super comfortable thanks to all its high-end features. Keep in mind, however, that they only offer basic protection. So if you're looking for something with more padding, I advise you to look at our next options.
Pros
• Pocket-friendly price
• Sweat absorbent and soft wipe thumb
• Touchscreen compatible
• Hook-and-loop closure for easy on-and-off
• TRUGEL pads on palm for absorbing harsh vibrations
Cons
• The silicone grippers start peeling off straight away


Specifications
+ Construction material: Microfiber and Lycra
+ Color: Pink Butterfly
+ Size: M, L, S
+ Weight: 0.1 kg
First and foremost, at around £13.99, the HUSAGEI gel is one cycling glove that you shouldn't miss out on. That being said, this full-finger glove for women features three fingers touchscreen for operating your smart devices such as smartphone, tablet, or fitness watch without taking off your gloves. Also, it features a breathable stretch nylon material with breath holes for ensuring comfortability and fast-drying. The ventilation holes on the glove's palm are also a great bonus, especially for those who sweat quite easily.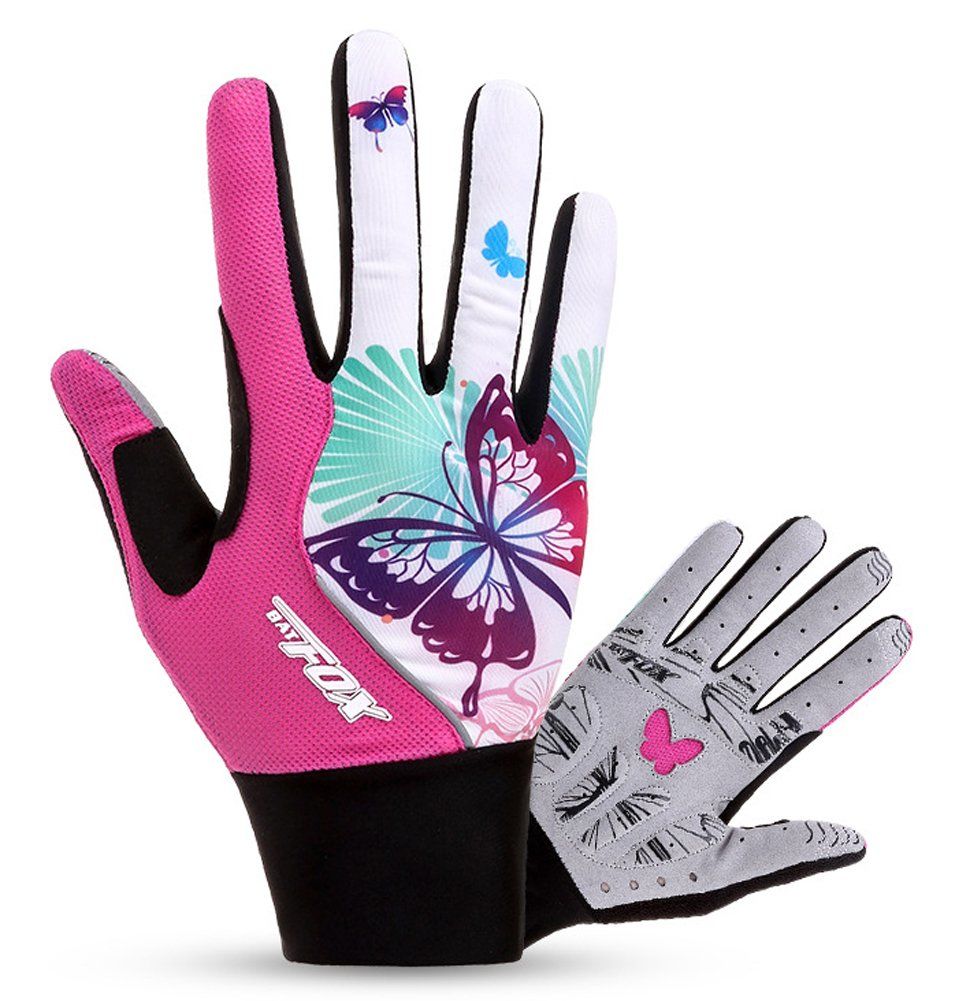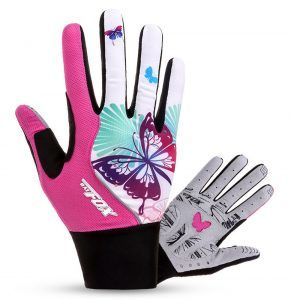 Another exciting feature I found on this durable glove is the thick silica gel pad located on the palm. This type of construction goes a long way in enhancing your grip and shock absorption. The wrists are also fitted with non-slip silica gel strips to prevent falling off. And don't forget that this item comes in three different sizes, including M (18-20cm), L (20-23cm), and S (16-18cm). This way, you don't have to worry about finding the perfect fit for your ride. All said and done; this excellent all-rounder is definitely a great gift to get your mother, wife, daughter, or friend.
> Read our guide to the best cycling tank tops
Pros
• Three-finger touchscreen
• They have good padding
• Great design and colors
• Soft and comfortable
• Great fit
Cons
• The padding isn't as thick as I expected


Specifications
+ Weight: 62g
+ Color: Black & Red
+ Recommended use: Cycling gloves
+ Construction materials: Synthetic leather, spandex, lycra, nylon mesh, rubber, foam, neoprene, PU, terry cloth, other materials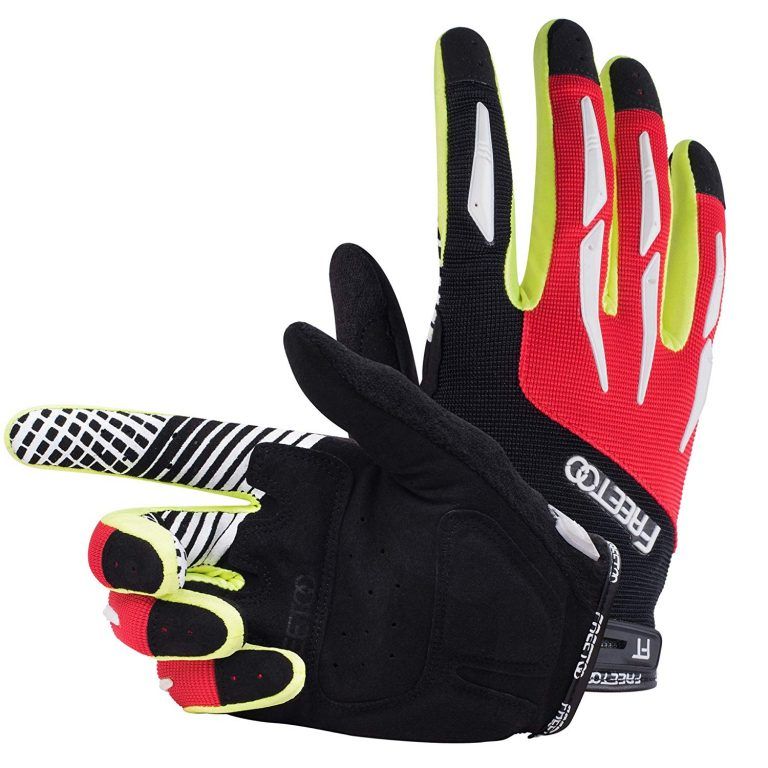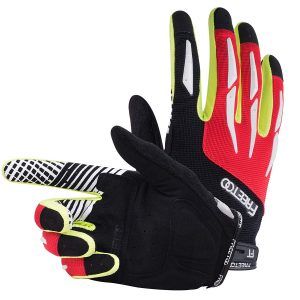 Are you still searching for that colorful cycling glove that stands out from the crowd? Well, the FREETOO Full Finger womens mountain bike gloves are here to help you out. And just like our two previous cycling gloves, they also boast of a pocket-friendly price of £14.99, so you don't have an excuse not to get one. But what I like the most about them is that they are designed to offer full protection on your rides thanks to the textured and gel padded palms that act as anti-shock and anti-slip. Apart from that, they come with highly reflective details on the exterior, which ensures safe night riding.
Moving forward, the FREETOO gloves are also lightweight and breathable. The micropores on palms and fingers offer the much-needed ventilation, which evacuates palm moisture. This way, the glove becomes very comfortable to wear. They offer one of the best grips and control you can get on the market right now thanks to the silicon fingertips for increased abrasions. Let's also not forget the raised cushions on the palm for absorbing hard vibrations, thus keeping your rides as comfortable as possible. To conclude, this versatile and protective glove is ideal for hiking, climbing, camping, and of course, biking.
Pros
• Sensitive touchscreen compatible
• Colorful and unique
• Lightweight and breathable
• Offers more protection
• Affordable price tag
Cons
• The gloves are slightly smaller, so you should order for a larger size


Women's Mountain Bike Cycling Gloves Buying Guide
These are the best gloves when it comes to hand safety and comfort. I'm pretty confident that one of them will meet your needs. But to help you narrow down on the best gloves on your own, here are some crucial factors to consider:
– Size and Fit
If your gloves don't fit properly, they won't give you the much-needed protection. You'll need to make sure that your hand and wrist measurements are in line with the manufacturer's specifications.
– Comfort
This is another key factor to consider when choosing the right pair of gloves. You should select one with a soft, breathable fabric and padding.
– Protection Level
You should, first of all, find out the kind of protection you need. If you're biking over rough terrains, you should invest in gloves with silicone pads or foam on their palms. They will protect your wrists and hands against bumps and vibrations.
– Style
Style is a pretty straightforward factor to keep in mind when shopping around for mountain bike gloves. Obviously, you're more likely to wear your gloves if you like their looks.
Final Words
For how much these gloves cost, I'm pretty sure you can't complain about their overall quality. The materials used make them comfortable and breathable without sacrificing durability. And with that buyer's guide, you can now walk right into the nearby store and pick the perfect pair of mountain bike cycling gloves.
Image Source: Amazon.co.uk
You might also like our guide to the best women's cycling glasses