A good bike is a significant investment, and if you're like most bike enthusiasts, you have more than just money invested in yours. It's carried you faithfully over countless trails, sunny roadside rides, and unforgettable outings. It deserves to be transported with the same care—and that's why you need a high-quality bike rack.
Thanks to the popularity of biking, though, you have a wealth of options when it comes to choosing the right bike carrier for your bike. Not only are there numerous styles to choose from, but there's no shortage of models on the market. To help you make an informed buying decision, we've put together a list of the best bike racks in the UK.
What You Need to Know Before Buying a Bike Rack
Before we get into actual products to consider, we'd like to take a moment to give you a quick crash course on what to look for when choosing a bike rack. It's important to consider ease of use and setup, durability, design, and of course—safety and security features.
Bike Rack Types
There are three basic types of bike carriers based on where on the vehicle they mount: roof, boot, or towbar. Each option has its pros and cons, and which will work best for you will depend on your preference more than anything.
Rear-mounted bike carriers strap onto the boot or hatch of your vehicle. They are affordable, as they don't require any hardware, and you'll be able to keep an eye on your bike as you drive. On the other hand, they obstruct your rearview and pose the highest chance of scratching your vehicle during transport. If they aren't properly secured, they can also be a bit wobbly.
Roof-mounted bike carriers are a safer option than rear-mounted racks since they don't interfere with your field of view while driving. However, they do require roof racks or bars and can hurt your gas mileage. They are also less convenient when it comes to taking your bike down and up before and after use.
Towbar-mounted bike carriers are the most expensive rack type, but also the most secure and easy to use. Depending on the style you choose, your bike will either sit on a platform or hang from a bar that aligns the bike below your window so you can see. Many models even include lights or license plate mounting brackets to keep your vehicle safe and legal.
Check Your Vehicle Manual
As some bike racks can hold four or more bikes, be sure to check your vehicle's manual to ensure it can handle the additional weight. While this is mostly a concern for smaller, lighter vehicles with low-tow capacity, it is particularly important regardless of your vehicle type if you are considering a roof-mounted model. Many vehicles are not designed to hold a great deal of weight in that area.
Consider Your Needs
How many bikes do you need to haul? Will you be parked in public areas where a bike or rack lock might be important? What type and size bikes do you plan to transport?
All the above are questions to keep in mind when shopping for a bike rack. Not all models will support non-standard frame types, for example, and all have maximum weight capacities (which could pose a problem for electric bikes). Make sure you are keeping your needs in mind and checking that the rack you're considering can meet those needs.
Beyond bike rack type, your vehicle, and needs, you just need to consider the typical shopping factors, such as brand reputation, the materials used, and your budget. With that said, let's move on to the top bike racks on the market.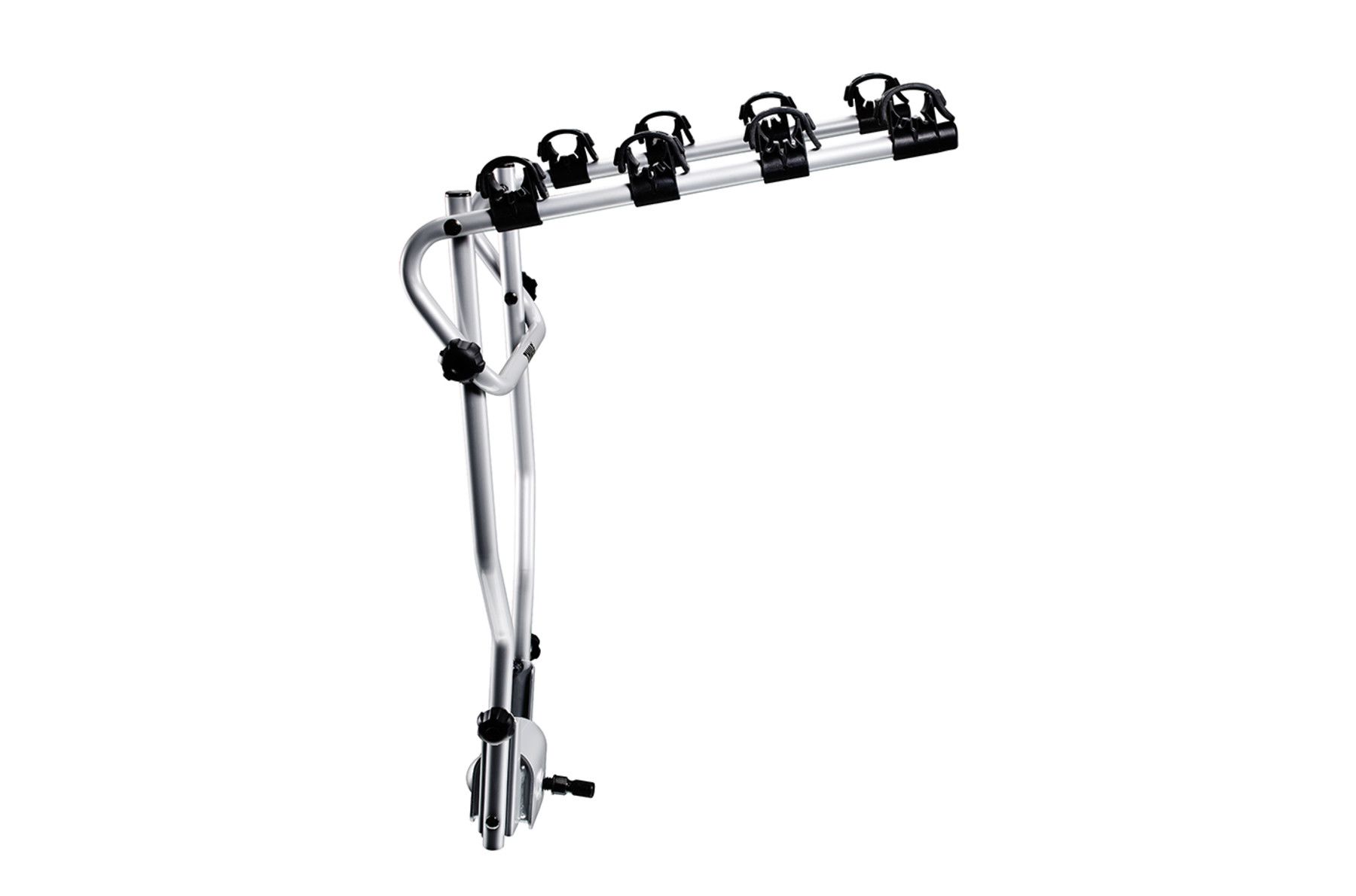 The Thule HangOn is a four-bike towbar-mounted rack suitable for bike frames 50 cm and up with standard frame shapes, like most mountain bikes. There is also an adapter for non-standard frames, such as women's, BMX, and downhill bikes. Its folding and tilting design makes it not only easy to use but also easy to store. You can even open your hatch with the rack still mounted (without bikes), thanks to the tilting action.
The durable metal frame has in-built rubber straps for securing your bike, and installation is simple. The HangOn 4 also offers the option for a range of accessories such as lights, a towbar-to-rack lock, and a bike-to-frame lock.
While it's on the higher-end of the price-scale—which is typical for towbar-mounted models—and we wish the accessories came as a package deal, this bike rack is versatile and sure to stand the test of time.
Specifications:
Maximum Load Capacity: 60 kg.
Weight: 10 kg.
Dimensions: 47 x 64 x 90 cm
Best cheap bike rack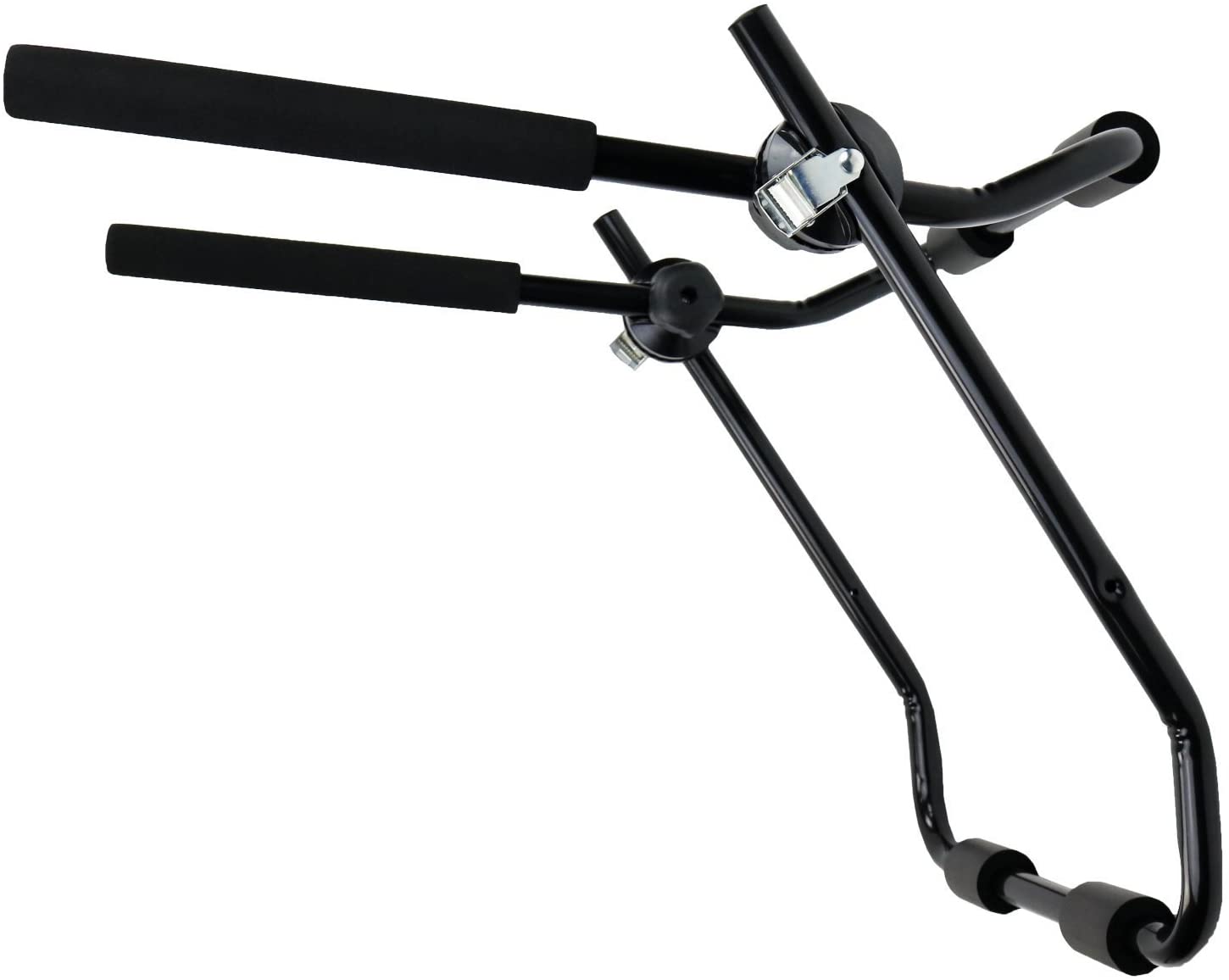 Image Source: Amazon.co.uk
The two-bike version of Oypla's universal bike rack, this is another rear-mounted option suitable for those with smaller vehicles. Like its larger counterpart, it straps securely to your vehicle boot, has foam padding to prevent damage, and fits most hatchbacks, saloons, coupés, people carriers, and MPVs.
Installation is straightforward and fast, and again, the frame features a folding design to allow for easy storage.
The biggest difference between the two-bike universal model and the three-bike option—beyond that one holds an extra bike—is that the three-bike model has built-in bike clamps while the two-bike model requires additional bike tie-downs to secure them to the rack. It does come with said ties, but they aren't as high-quality as the rack itself. You may want to buy your own.
Specifications:
Maximum Load Capacity: 40 kg.
Weight: 4 kg.
Dimensions: 70 x 47.5 cm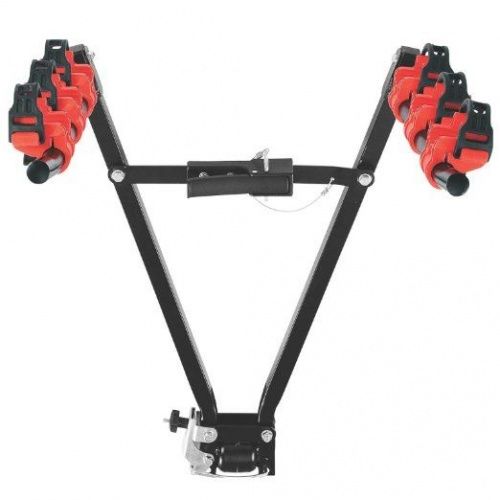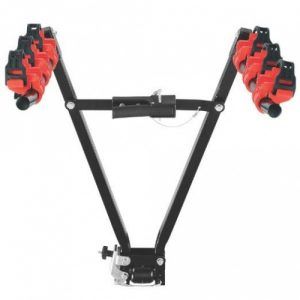 A rare affordable towbar-mounted bike rack, the Streetwize carrier holds three bikes and features an easy-to-use spring-loaded design that folds up and down. The frame is lightweight with protective rubber shock-absorbers to ensure both your vehicle and your bike aren't damaged during transport.
It is suitable for bikes of all sizes and has an adjustable positioning arm that allows for non-standard frame types. Installation is simple and requires no tools! However, some users do report it can be a bit tricky with swan neck towbars.
If you prefer a towbar-mounted rack but don't want to break the bank, the Streetwize three-bike carrier is the perfect choice.
Specifications:
Maximum Load Capacity: 40 kg
Dimensions: 69.5 x 22 x 11 cm
Weight: 4 Kg.
Another rear-mount bike rack, the Perruzo Cruiser Delux does require assembly but is very easy to install and remove. It comes complete with three bike cradles and six fastening straps to provide a secure fit. The bottom straps include an anti-bounce mechanism, the upper straps are double stitched, and all the above feature steel buckles. Each strap is tested at 250 kilos!
It's shock-absorbing frame folds flat for storage and is made of high-quality materials. The Cruiser Delux fits most vehicle types and comes with a matte black finish—you won't have to worry about it clashing with your car colour.
While this model does offer better rear visibility than most rear-mount bike racks, it will cover your license plate and may make your rear lights less visible to other motorists. A lightbar is recommended if you'll be using it at night for your safety. Transporting bikes with step-through frames also requires a crossbar converter (not included).
Specifications:
Maximum Load Capacity: 45 kg.
Dimensions: 78.5 x 53 x 8 cm
Weight: 4.2 Kg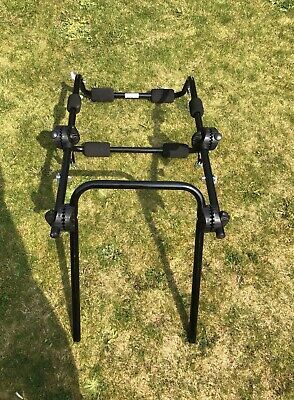 The Oypla Universal bike rack allows you to carry up to three bikes at the time of any size—it will carry kid's bikes as well. This model is a rear-mounted bike carrier that attaches to the boot of your vehicle and fits most coupés, hatchbacks, people carriers, MPVs, and saloons.
It features protective foam rings to keep your bike from damaging your vehicle's paint or body. Its all-metal frame is held in place by six heavy-duty straps offering security and safety.
While the instructions aren't the best, it is easy to install and remove when necessary. It even features a convenient folding design that makes it a breeze to store. The Oypla Universal bike racks only drawback is inherent to its rack type—it will block your rear window. We have this rack and often stack it with 3 road bikes – you will get used to driving using your wing mirrors only.
Specifications:
Maximum Load Capacity: 40 kg.
Weight: 4 kg.
Dimensions: 70 x 47.5 cm
Transport Your Bike Safely
All the bike racks listed above will allow you to transport your bike—or bikes—with ease safely. If we had to choose one winner to crown as the best bike rack available in the UK, it would be the Thule HangOn 4. It's versatility, durable design, and accessory options take it a notch above the competition. If you're looking for a rear-mount model, we recommend the Oypla Universal three-bike rack.
We hope this quick guide and review has helped you find the perfect bike rack for your needs.