Working out offers multiple health benefits. When you need to exercise outside the gym, you can always take part in different outdoor workouts. Besides walking and running, cycling is another enjoyable physical activity to try. However, you cannot cycle in any clothes. You need to wear comfortable clothing that does not get in the way of your biking experience. Therefore, as you prepare to go on a solo or group cycling experience with your friends or family, make sure you wear cycling shorts for comfort. Below are examples of the best cycling shorts for women.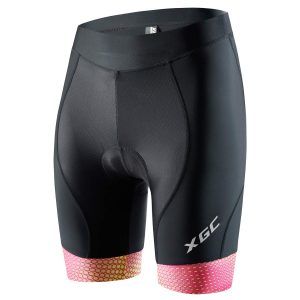 When you settle for the XGC shorts, you are buying lightweight apparel consisting of smooth, soft, durable material. The fabric is breathable for ventilation as you bike. It also absorbs moisture and dries fast to foster comfort. These shorts are top-quality, high-density, and elastic to ensure a body-hugging fit. The manufacturer uses non-slip material in making them to ensure they do not slide around when you are wearing them.
The 4D sponge adds to the comfortable nature of this brand. You can get it in small, medium, large, and extra-large sizes, so every rider can find a size that fits perfectly. Machine wash or hand wash the shorts and hang them to dry.
About color choices, XGC shorts are all black but have strips of different shades at the ends. You can buy the all-black shorts or go for those with black-green, black-pink, black-white, pink yellow, or purple yellow strips. Such colors foster safety when riding your bike at night. They make it easier for other road users to see you.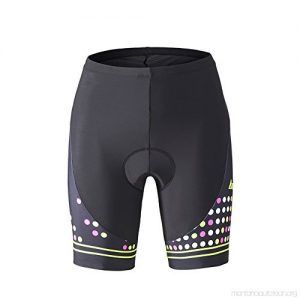 Beroy offers stylish cycling shorts or women. It does no matter the size you are looking for because the company provides small, medium, large, and XXX-large shorts to select. The color range is wide enough to include black shorts with pink, blue, white purple, colorful, red, and sky blue strips. However, the 4D cushioning offers additional protection when on your bike saddle.
Like XGC, Beroy shorts are comfortable, light, and breathable. The mesh pane design keeps you cool as you cover more miles while the moisture-wicking fabric ensures the shorts are dry at all times to prevent discomfort. The excellent stitching on the product fosters durability while the flat seam design minimizes chafing and supports a proper fit.
The fabric is also soft and compressive for a snug fit. Beroy suits every type of biker. You can also wear them when racing or hiking. The shorts feature anti-slide silicone grippers that ensure the leg opening stays intact throughout your cycling experience while the non-slip band on the hem bars the shorts from gliding upwards when biking. Note that this product has reflective stripes as well to promote your safety by making you more visible when cycling in areas with low light.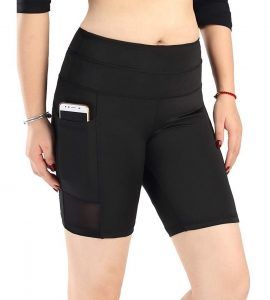 Are you searching for biking shorts with pockets? Neonysweets is one of the brands to keep in mind when shopping. Unlike the previous products, it comes with a phone pocket. That way, you do not have to carry a purse during a short workout ride or leave your phone at home. You get to cycle with no baggage and never miss a crucial call. Neony is available in small, medium, large, and extra-large sizes. As for colors, you can buy black, blue, or green shorts.
The manufacturer utilizes polyester and lycra when making these shorts. They stretch and wick moisture to keep you comfortable. You do not want to ride in shorts that stick to your body. Besides, these shorts are machine-washable and do not ride up as you cycle. Additionally, there is no rubbing between the legs, which fosters comfort. These shorts are light and fit correctly.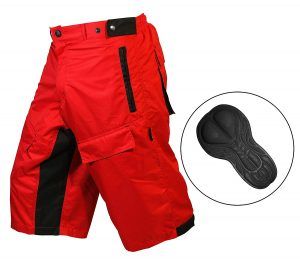 As one of the best cycling shorts for women, SelectCyclingWear is different from the three shorts we have already discussed. Unlike the above products that stretch and hug your skin, MTB shorts are baggy. The feature makes them ideal for female riders who do not want to go cycling in tight bike shorts. They are available in small, medium, and large sizes. The red color looks stunning.
Neonysweets has one pocket for your phone. On the contrary, SelectCycling offers you four pockets with covering flaps two at the front and two at the back. They provide you with extra storage space for your phone, keys, and other essentials. The stretchy crotch on these shots gives you an easy time riding your bike since your movement is not restricted.
The product also has a superior quality stretchable inner liner with an anti-bacteria padding for extra comfort. Besides, the elastic waist ensures that the shorts fit properly while the fly has a button fastening functionality.
If you need to adjust the waist size, the manufacturer incorporates a press stud on each side of the shorts to make your work easier. Are you worried about the shorts gliding upwards? The leg grippers on this apparel prevent that from happening for your peace of mind and stress-free rides.
Regarding material, SelectCyclingWear consists of 100 % polyester Taslan fabric that fosters durability and repels moisture for comfort. It keeps you dry at all times, whether you are on or off your bike.

Final Thought
There are many cycling shorts for women to consider purchasing. Nevertheless, not all of them are the best. It would be best if you bought high-quality shorts that fit well and adjustable. Check the material they are made from as well. An excellent brand provides stylish shorts available in different colors and sizes to suit riders of varying preferences and body sizes, respectively.
Whether you want tight, comfortable shorts or those that are a little baggy, the market has what you are looking for. We have already discussed four examples of the best biking shorts to consider buying. They are all comfortable and high quality. However, Neonysweets and SelectCyclingWear provide shorts with pockets while XGC and Beroy do not have that advantage.
Nevertheless, all four products are worthwhile purchases. There is no harm in buying more than one. For example, you can buy one snug short and baggy one to alternate them during your rides.
Image Source: Amazon.co.uk