Founded by Gary Turner in 1979, the GT has been – and is still – one of the major players in the cycling industry. The company has maintained an effective and efficient range of mountain bikes by producing top of class MTBs strongly achieved by ensuring regular updates that reflect the latest trends in technology and mountain bike scene.
Introducing the 2020 GT Aggressor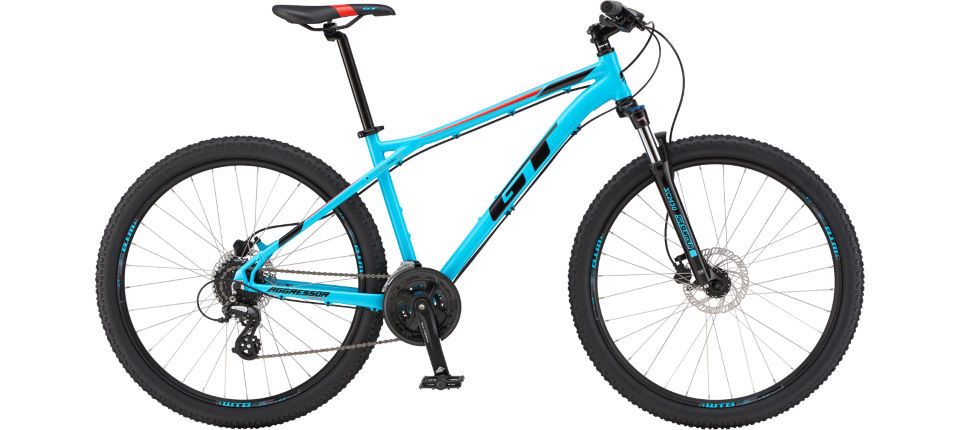 The 2020 GT Aggressor is one of the latest GT's trusted models well suited to a novice or intermediate MTB rider. With an excellent range of four sizes, the Aggressor suits almost any rider size and is regarded as a sport utility gadget with great handling, rough versatility, and comfort that inspires confidence in terms of performance.
After studying all the specs from the 2020 and 2019 models, very little has changed.
GT Aggressor Models
There are three models in the aggressor range:
–Aggressor Comp – Basic model
–Aggressor Expert – With disc brakes and hydraulic lock out forks
–Aggressor Sport – Suntour M3030 forks and Shimano EZ Fire shifters
Each bike has an increasingly better spec and increased price. For the price-conscious, go for the Aggressor comp or search the websites listed here for GT Aggressor Sport 2019 models, which will be cheaper, and they clear stock for the 2020 models.
There is no GT Aggressor Pro anymore, the 2018 has been replaced with the Aggressor Sport model.
Top GT Aggressor features
Top GT Aggressor features include:
• A lightweight 6061-T6 aluminum triple triangle frame
• SR Suntour M3030 forks, with 80mm of adjustable and supple coil suspension
• Shimano Easyfire Shifters
• Shimano Tourney 3×8 speed derailleurs
• Shimano mechanical disc brakes
Breaking
Like the GT Avalanche, the GT Aggressor is a bike for every riding terrain and situation thanks to the reliable breaking system. This is a bike built around a tough yet lightweight triple-triangle alloy frame with 3×8 Shimano gearing and mechanical disc brakes. The mechanical disc brakes have been designed with advanced technology and are more efficient compared to hydraulic brakes. A tension steel cable activates pistons making the brakes compress against the rotor. The brake design and power are not constrained by tire size and perfect for wet weather condition.
If you need to save some weight, the Aggressor MTB is a lightweight GT version with excellent transition tires that match with the decent disc brakes allowing you to put enough torque in to stop with just one finger breaking.
Gearing

Shimano 3×8 gearing contains multiple gears to make it easier to go uphill and get you faster on level ground. Biking experts recommend knowing what you really need, and in this case, a good range of gears. Shimano includes low gears for conquering tough hills, moderate gears, as well as high gears to keep pealing as you go down gentle inclines.
Chunky Tires

A reliable mountain bike is built, adjusted and tested by various qualified mechanics to ensure that the rider is not only safe but also experience fun and comfortable ride. The 2020 Aggressor's chunky tires offer better traction – a plus for sand – for a more confident feel that translates to more fun and faster progression. This type of tires also accepts more air volume that absorbs bumps.
Hydraulic lockout forks

Hydraulic lockout forks included as part of the 2019 Aggressor are of massive aid when riding uphill on even terrain. The lockout is a lever on one of the tubes in the fork that makes your fork rigid once it is turned. This allows you to transform your pedaling into the traveled distance. A rider will not bounce when riding out of the saddle as it is the case with the suspension on, instead, you will gain distance more efficiently.
GT Aggressor Specs
• Color: Gloss Aqua Blue, Satin Slate Blue
• Size of Frame: Small, Medium, Large, XL
• Size of Wheel: 27.5″ (650b)
• Gender: Unisex
• Speed: 24 Speed
• Material: Alloy
• Fork Travel: 80mm
Assembly
The GT assembly is simple as all the essential tools are expediently packaged for novice and intermediate riders. Once assembly is done, you will notice that the handlebar is well built and wide to allow a rider to grip on tightly without the risk of cramping the hands. The seat post is slightly skinny and the seat can be micro-adjusted to give the perfect level of comfort. The tourney unit situated at the back works on a pulley system designed to make shifting lighter and easier.
GT Aggressor Verdict
Although it is designed and built for beginners and intermediate riders, the 2020 GT Aggressor is a good offering. Plenty of features is available for the money you pay, and trust me, it is going to last you well. The mountain bike is better suited for you if you are a casual rider looking to get into competitions including trails that are more technical. This bike is a responsive model and a favorable alternative when starting out and owning one means that you get great value for money, as it is well suited for a variety of uses. The 2020 GT Aggressor is a perfect MTB model for exploring forest tracks, cruising around town and just about any track you wish to explore.