The Voodoo Soukri mountain bike is everything women need for a full off-roading experience. The wide tires and long forks help to make those large bumps and dips easier to fly over. And the solid frame gives you the confidence to take on demanding terrain.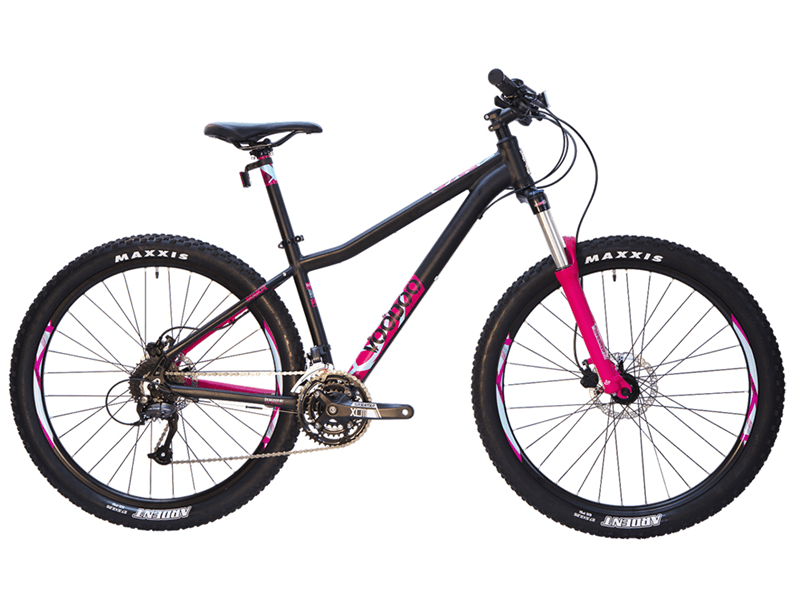 Facts:
Material: 7005 Aluminum Alloy
Gears: 18 Shimano Altus
Wheels: 27.5" Kenda K-1150 Black Alloy, 2.35 Inches Wide
Weight: 32.4 pounds (14.7 Kg)
Brakes: Tektro HDM290
Colors: Reflective Blue
Forks: 4.72" XCM
Sizes: 14", 16", 18"
Voodoo Soukri Forks
XCM aluminum alloy forks from SRSunTour are both lightweight and strong, weighing less than 2.7 Kg. The forks have 4.72 inches (120 mm) of travel, which is more than enough for most jumps and bumps. And the coil is also simple to adjust, with basic tools, for those that want to make the loading more personal.
Voodoo Soukri Tires
The Voodoo Soukri has large 27.5-inch Kenda tires on the Soukri, considered the industry standard in mountain biking. Kenda tires are fast and lightweight — with great grip to make rapid turns more predictable.
These are tubeless-ready tires, which can have either an inner tube or run without. Tubeless tires tend to lose air slower, give the rider better handling, and last longer. These tires work well on rocky as well as on gravel tracks.
Voodoo Soukri Gears
The Soukri uses a gearing kit from the world-famous Shimano Altus range. The derailleur and rear gear-set offers up smooth transitions through every one of its 9 gears. There are another 2 sprockets on the crankset to give the rider a total of 18-gears.
Voodoo Soukri Brakes
TEKTRO brakes from the USA have a good reputation for being both lightweight and strong. Both the calipers and the levers are solid aluminum. These combined with the metal-ceramic brake pads gives the rider excellent stopping power. And ceramic brakes pads are going to be dependable regardless of the conditions.
Voodoo Soukri Frame
Soukri's 7005 aluminum is a complex alloy that is strong, lightweight, and it does not get affected by the high heat from welding as with other alloys. So, you can expect this frame to last and not to start bearing fatigue cracks after riding over a few bumps.
Key Points:
A strong mountain bike frame.
Uses the best parts manufacturers in the world.
Wide tubeless tires, perfect for loose ground.
A low center-bar so shorter rider will not have trouble reaching the ground to stand up.
Long travel front forks.
Verdict – Is the Voodoo Soukri any Good?
This is a serious women's mountain bike with all the features that you would expect to have on an off-road bike – it also comes in under £500. The long travel of the front forks is better for absorbing big impacts. And long forks are better for reducing the amount of strain on your wrists, which are trying to do the steering.
The wide front tires are not so good for general road riding. But wide tires are exactly what you need for off-roading on loose surfaces, and they will also absorb some of the impacts coming up from the rims. The seat post is pneumatic dropper ready, with a hole in the frame for a dropper linkage.
The large disc brakes give you the superior stopping-power control you need on long downhill runs. These brakes will leave you without any concern that they are about to overheat and fail. And the paint scheme ensures that you will stand out in the crowd and get noticed on your new ride.
---
You might also like these articles: