Classic bikes epitomize the timeless tradition of nipping into town for casual shopping or cruising the countryside, taking in the pleasant view of the sceneries.
These classic ladies bikes were first seen in Holland during the 19th century. If you have ever been to Amsterdam, you would have seen them all over, especially outside the train station. Traditionally, these dutch bicycles were single speed bikes or had 3 gears, nowadays you can find the with 7-speed options.
If you are shopping for a vintage-style bicycle, therefore, here is a suggestion of the top ladies' bikes that will turn heads when you compliment them with your beautiful classic dresses and take to the roads.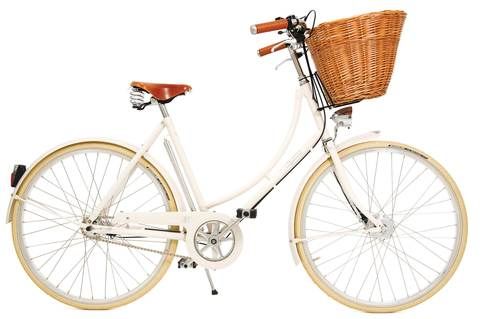 You are going to fall in love with the Aurora the moment you spot it. It is a beautiful, unique ladies' bicycle with shiny mudguards, mixite frame, and Brooke B17S leather saddle. The cream color paintwork finishing complements the vibrant honey color of the leather saddle, making it a sure head-turner.
But beauty is not the only great thing about the Aurora. This is a unique bike, designed for dynamic rides. Whether it is on the country lanes or in busy city traffic, the Aurora is a joy to ride. It will feel like a part of you every time. The bike lightweight and nippy courtesy of a Reynolds 531 steel frame.
The steel-frame is hand-built with nimble geometry for a stress-free semi-upright riding position. This, coupled with the smooth 8-speed gear system, leather handgrips, and brooks saddle, make for a comfortable ride.
The 8-speed gear system is the wide-ranging and adaptable Shimano Alfine hub. The bike is adaptable to both rough countryside lanes and smooth city lanes. It is also a low-maintenance system because it is enclosed, keeping it safe from weather elements.
The tires and rims are also designed for speed and comfort. It features narrow alloy rims from Mavic and punctures protected tires from Panaracer so you can ride at fast speeds without any interruption.
Summary of the Pashley Aurora ladies bicycle features and specifications
· Approximate Weight: 13.5Kg
· Frame: A step-through, elegant, hand-built steel frame
· Gears: enclosed 8 Speed Shimano Alfine hub system
· Brakes: Calliper brakes
· Wheels: 700c X 28 Panaracer pasela tires
Best cheap ladies bike with basket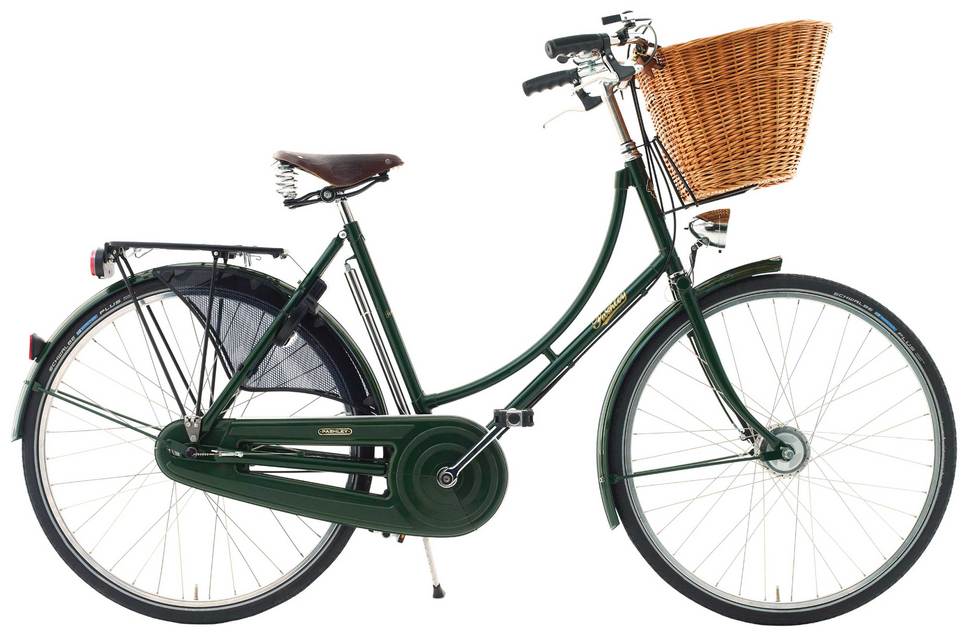 Epitomize the vintage English riding tradition with the Princess bike from Pashley. It has a refined design and exudes elegance courtesy of a combination of mudguards, skirtguards, and a full chaincase to keep you from dirt.
There are two models of the Princess: You can go for the simpler and lighter Princess Classic that features reliable 3-speed gears or the Sovereign that features 5 wide-ratio gears, a multipurpose rear luggage holder and a dynamo headlamp.
Every Princess bike component is classic. The bike's upright riding position goes back to the timeless English tradition of simple and relaxed trips downtown, tranquil cruises into the countryside with a good view of the scenery and one when one would announce their arrival using a large ding-dong' bell.
To complete the timeless look, there's an iconic wicker basket on the front of the Princess bicycle model. And what is lovely is that the size of the basket is just right for your picnics, food shopping or small dog.
The Princess is designed for an all-weather functionality. As mentioned before, it features beautiful, hand-applied mudguards, protective rear skirtguards, and an enclosed gear system protecting you from splashes and making it a low-maintenance bike.
Summary of the Princess Model features and specifications:
· Approximate Weight: 18Kg
· Frame: hand-crafted steel frame with a step-through design
· Handlebars: Chrome-plated raised the bar
· Brakes and gears: Classic hub gears with thumb-applied lever
· Saddle: Antique brown leather saddle that adapts to your shape over time
· Wheels: 26-inch rims with Schwalbe puncture-resistant tires
>> Read also our guide to the best mountain bikes for women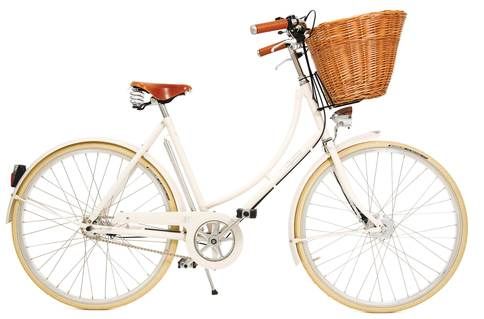 At just 17kg with a hand-crafted steel frame, powerful hub brake, and gears, the Britannia is adaptable to all sorts of pursuits. It has a classic design that is easy to fall in love with on the spot.
From the upright riding position to the hand-crafted leather grips, the splendid 'ding-dong' bell, the classic mudguards, and the front wicker basket, the Britannia offers a fun and elegant way to explore the pleasant countryside or just ride around town in the classic English fashion.
You are going to love this all-weather bike. It features mudguards and chainguards to protect you from mud and grease. There's also the reliable hub brake and gear system that is effective, whether in rough, hilly, or smooth, flat terrains. For gears, you can get a Britannia model with a 5 or E8 speed hub gear, fully enclosed to keep it safe from horrid weather elements, of course.
>> Check out our guide to women's hybrid bicycles
Every component on the Britannia is fine-tuned for comfort. The curved frame is paired with a traditional sweeping handlebar for an elegant riding position. This level of comfort is boosted by the addition of hand-crafted Brooks B66S leather saddles that adapt to your form over time, shaping into a comfortable, fully customized seat.
Extra luxurious features of the Britannia include:
· A dynamo-powered traditional headlamp
· A frame-fitted pump that comes in handy when tires need air
· Front, rear, tire, and pedal reflectors for enhanced visibility at night.
· A sturdy prop stand for effortless parking
· Protective chainguard
The Azor Priestess Traditional Dutch Bike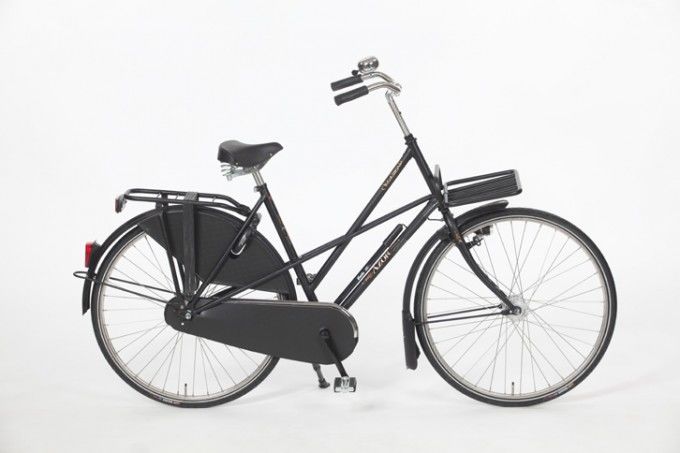 What better way to protect your dignity as a lady than with a bike allegedly for a priest? The Azor Priestess bike presents a retro cross-frame designed to enhance rigidity and also keep your skirt from lifting as you cycle.
The Azor Priestess is available in various versions, including an electrical model, at a slightly steeper price, of course. All models feature a powerful Shimano brake and gear system adaptable to any terrain. The Priestess is a joy to ride with a 'sit-up' style.
Additional features of the Azor Priestess:
· A hub dynamo
· Classic chaincase and mudguards
Summary
There you go lovelies; classic bikes are a joy to ride. Everything about them speaks of a relaxed, comfortable, pleasant cruising. Most womens vintage bicycles are sexy British or Dutch bicycles with taller firmer frames, curvy handlebars, large ding-dong' bells, front basket, and 'sit-up' style for versatility, comfort and a great view of the surroundings. If you are shopping for a bike that will enhance your elegance, therefore, go for the above timeless machines.
You might also like our guide to the best women's road bikes this year, if you fancy taking things to the next level.
Image sources: Halfords.com