Now we are in the midst of the Coronavirus lockdown, everyone is out on their bikes grabbing their 1 hour per day exercise. Online bike shops are getting flooded with new orders; within 2 weeks you'll see more people out riding bikes in the UK than ever before. This is a good thing!
We still see only 50% of riders wearing cycling helmet though, which is disappointing as we support bicycle helmet initiatives like the Cycle Smart Foundation. Forget about how you look or whether your hair will get flattened – WEAR A HELMET FOR EVERY RIDE.
In this article, We'll give you the 5 best women's cycling helmets on the market, all have been rigorously tested by the manufacturers and pass government safety standards with flying colours. We have also tested all these helmets and know which ones are the most comfortable.
Women's Cycling Helmets FAQs
Are women wear men's helmets?
Yes, most cycling helmets are unisex. Women generally go for different colours and smaller sizes.
What are the best women's cycling helmet brands?
Bell, Giro and POC are all high end cycling helmets that spend millions of pounds testing their products.
Should I buy one of these brands?
Yes, do not buy any non-branded helmets on Amazon. Many are Chinese imports that are not adequately tested.
What are MIPS helmets?
MIPS stands for multi-directional impact protection system. MIPS helmets have an inner shell that rotates to provide further brain protection during a crash.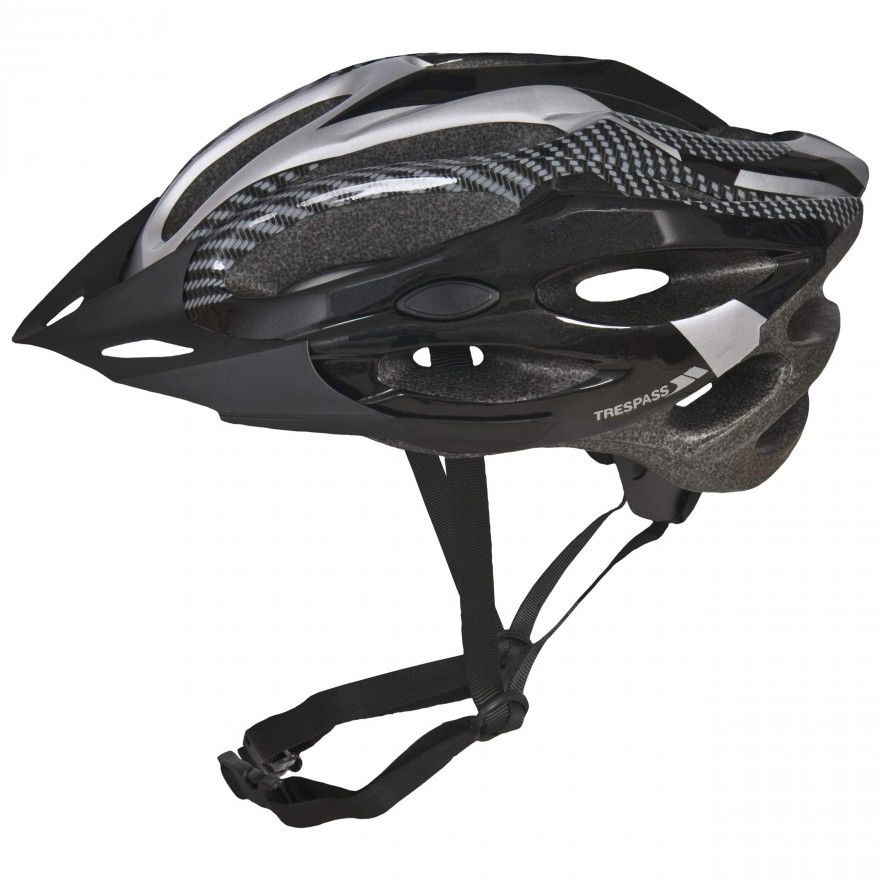 Trespass is a respected manufacturer of sports clothing and equipment based in Glasgow, Scotland. For over 40 years, Trespass has made it their mission to do their research into fabrics and protection wear.
The Crankster is one such development in bicycle safety wear; it is lightweight and comfortable to wear for extended periods. This is a unisex helmet, though women with long hair may find that there is a lot of mechanics in the rear that will get in the way of a ponytail. The outside of the helmet is made from a durable PVC to protect the internal foam from light damage and punctures from branches.
The interior foam is EPS, commonly used on bicycle helmets, and trusted for the material's shock absorption abilities. EPS is also very lightweight, considering how strong it is. And the Crankster offers a decent amount of protection to the back of the head.
Helmet Facts:
299 Grams
EPS Foam Interior
PVC Exterior Skin
Adjustable, Ventilated Visor
To make this more comfortable in warm weather, the helmet is designed with airflow in-mind. To take advantage of the shape of the head, Trespass has made several vents over the crown of the helmet to maximize airflow. There are also air vents over other hot spots, such as the ears.
To make the helmet more comfortable for the wearer, there is a rear adjustment dial to release or tighten the internal headband. And for use in sunny conditions, there is a fixed sun visor, also aerodynamically designed to improve airflow through the helmet.
This is a simple helmet that will do the job, but the features are limited, and it does not have MIPS. If you are an occasional rider, then this is a good choice to look at, but if you are always on the road, it may be worth looking towards more protection.


Pros:
Sun Visor
Adjustable Head Band
Air Flow
Styling
Cons:
Exposed EPS Foam
Rating: 4.5
>> Also read our guide to the best bike racks for your car
Giro is a big company in itself, connected to a number of large helmet makers, including Bell. The helmet comes in a variety of fun colours, including luminous yellow. All painted on to a hard in-mould polycarbonate shell.
This material gives the wearer excellent protection from punctures, a good level of resistance to the sun, and it is lightweight. Though this is unisex, the colours may be better suited as a woman's cycling helmet.
Polycarbonate also stands up better to light scratches and minor bumps. Polycarbonate is a material commonly used in the security industry for bulletproof shields. The shell covers an EPS foam interior that performs a majority of the impact protection. This EPS, in turn, is fixed to a MIPS head harness that is considered a lifesaver for many cyclists.
Helmet Facts:
299 Grams
MIPS
Polycarbonate Shell
Removable Visor
Roc Lock support system is an easy way for the wearer to control the tightness of the helmet to their head. This forms an essential part of the MIPS (Multidirectional Impact Protection System). MIPS works with the Roc Lock to supply active protection to the user.
MIPS is a way for the outer shell to roll by millimetres to give vital impact absorption in a crash. For an added level of sun protection, Giro has added a large sun visor to the front of the helmet. This visor is removable but not adjustable, and it is shaped to improve airflow into and around the helmet.
The helmet also has plenty of large air-vents, making this a great helmet to wear on hot days. Internal Quick-Dry padding helps with redirecting brow sweat and to reduce the discomfort of putting the helmet back on after a break.


Pros:
Quick-Dry Padding
MIPS
Good Ventilation
Roc Lock Comfort
Cons:
Colour Schemes
Rating: 4.6
>> Also check out our guide to cycling glasses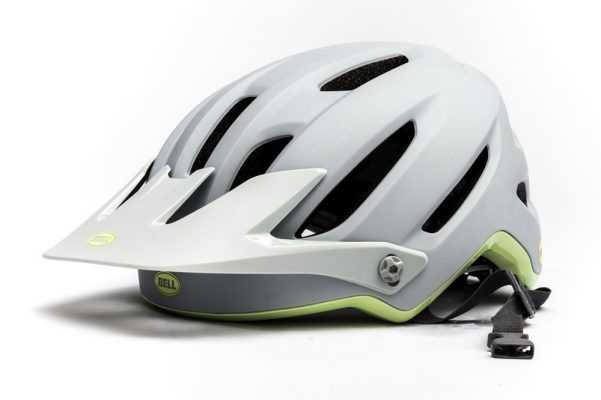 Bell has long been connected to Giro, and that becomes more obvious when you look at the choice of styling and the materials they use. Bell does tend to make the higher-end products, and the 4Forty has many small differences that add up in a big way.
The outer shell is made from a Fusion in-mould polycarbonate shield. The EPS impact absorption foam becomes a part of the shell to prevent separation in a crash, making a solid base for the MIPS to attach to. In this way, the helmet supplies superior protection over its competitors.
Bell gives you a choice of 3 colour schemes, and it weighs a modest 324 grams, lightweight for the level of impact absorption that the 4Forty provides.
Helmet Facts:
380 Grams
Polycarbonate Shell
EPS Foam Interior
MIPS
15 Vents
4Forty offers a deep level of protection to the rear of a wearer skull, without adding any constrictions. There is a good level of airflow through this helmet, with 15 large air vents delivering fantastic cooling. 4Forty comes with an adjustable visor, which is also removable. There are dials on each side of the visor, to adjust the angle.
4Forty uses Bell's Float Fit to make the helmet as comfortable for the wearer as possible. Float fit is controlled by a rubber-coated dial, to make it easier to control while wearing gloves. There is an integrated guide to wick moisture away from the eyebrow area and helps to keep the rider in full control of the bike.
With all these extras, the helmet is heavier than comparable models. At 380 grams, it is still light, but the weight may become more noticeable if worn for long durations. But the Bell 4Forty is a great helmet for downhill runs.


Pros:
Active Safety
Airflow
Visor
Comfort
Cons:
Entry Price
Rating: 4.5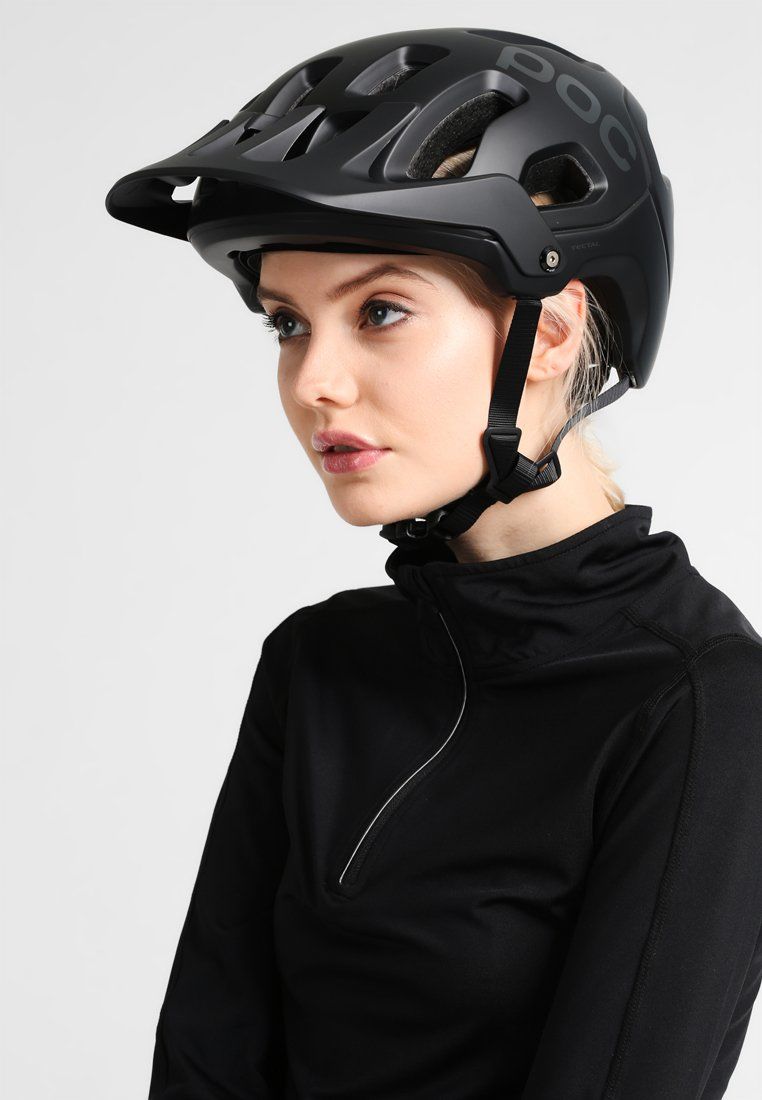 POC is like the Ferrari of sport helmet makers, and even though they have higher prices, what they offer for it is incomparable. The outer shell is made from polycarbonate, in-moulded with EPS foam, for a rigid external frame with an impact absorbent interior.
And they have managed to do this while keeping the weight down to an acceptable 340 grams. This low weight means that it is good for both downhill runs and extended usage on the road. There are some decent sized vent holes in the top and around the sides of the helmet, and they are integrated well with the design of the visor.
The visor is adjustable; you can choose from more protection from the sun and branches or extra space to wear your goggles. Or, if you wish, it is possible to remove the visor completely.
Helmet Facts:
340 Grams
Adjustable Visor
Polycarbonate Shell
EPS Liner with Aramid
With a polycarbonate shell, the helmet is already tough. And aramid, used in grid form, extends even more protection from punctures and adds to the rigidity of the shell. All the shell colours are finished in matte. Tectal gives the wearer a great level of protection around the whole head. And even with this protection, Women with long hair should find that it is comfortable to wear.
The front of the helmet is set as low as possible to optimize the temple protection and help wick away sweat from the eyes. The rear of the helmet reaches down to the top of the neck, giving true all-round protection. The helmet also has an industry standard Recco helmet reflector.
Recco reflectors are designed to make anything they are attached to, more visible to emergency services, even from the air. A Recco reflector also has a small chip in it that rescue services can send signals to discover the positions of those wearing the device. If you do a lot of mountain bike exploring on your own, this is a good addition to the location equipment you may already have.


Pros:
Recco Chip
Aramid Reinforcing
Strong
Lightweight
Cons:
Cost
Rating: 4.2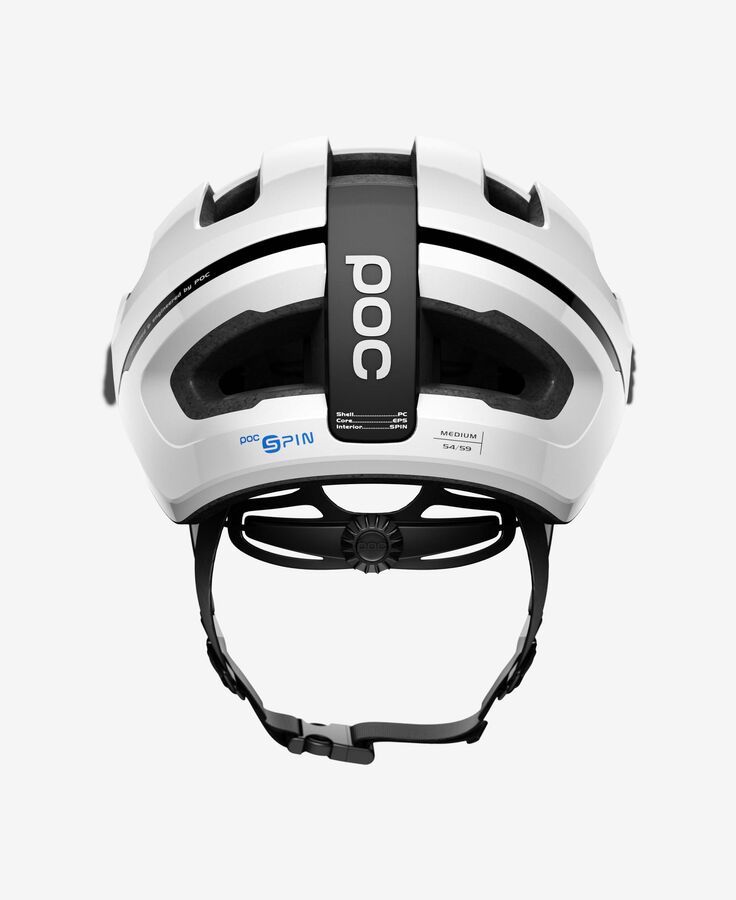 POC present their latest innovation in helmet technology with the Omne Air Spin. SPIN (Shearing Pad INside) protection, is POC's advanced solution to impact absorption. SPIN replaces the need for using other manufacturers for MIPS. SPIN is a combination of material that make up the foam padding that is in direct contact with the head.
SPIN is a silicone pad, offering better spacing, and better impact and rotational absorption. SPIN is moulded directly to the EPS foam liner, which helps to keep the weight of the helmet down to 300 grams for the medium-sized version.
The anchors for the chin strap are also moulded directed into the EPS liner for comfort and security. Moulded anchors help to reduce weight and remove the shear points that nuts and screws have. Strap anchors then become a part of the whole, rather than just an attachment.
Helmet Facts:
300 Grams
Polycarbonate
EPS Liner
SPIN Protection
POC Helmet is known for looking stylish, being lightweight, and comfortable. The 360-degree adjustment dial at the back of the helmet is easy to reach and rotate, even while wearing gloves. Even though POC has put a lot of good stuff on this helmet, it still lacks a visor.
Though, a lack of visor may not be an issue for those that do a lot of off-roading and intend to wear goggles. The rear of the helmet, falls below the skull line, offering excellent protection to the rear of the head. There is a good range of colours to choose from, all finished in matte.
And the SPIN foam, along with the large air vents, offers a superb level of moisture relief from inside the helmet. POC sells helmets at a premium, but the comfort that they offer makes them worth the cost.


Pros:
Silicon Foam Liner
Lightweight
Protection
Comfort
Cons:
No Visor
Rating: 4.4
You might also like: